Monday, February 21, 2011 | 04:58:32 PM
I have recently gotten into the habit of sending feedback to companies when I have thoughts or find issues with a website. As a developer, I know it is easy to overlook an issue in interaction, or something renders differently in a browser, or a code update affects something you didn't expect, and being tipped off to a problem can be very helpful.
A few weeks back I gave Gilt (one of my favorite recent startups/companies/websites ever) some feedback on their Chrome Web App (in summary, very good), but the e-mail address included in the app bounced the message back. This gave me a second item of feedback. The customer service rep responded, helpfully suggesting that their website works best in FireFox. . . but in all they're great
Today I was looking for a particular type of suit. A Google result sent me to a site that sent me to "Men's USA." I almost immediately closed the website because I was overwhelmed at the incredibly terrible design.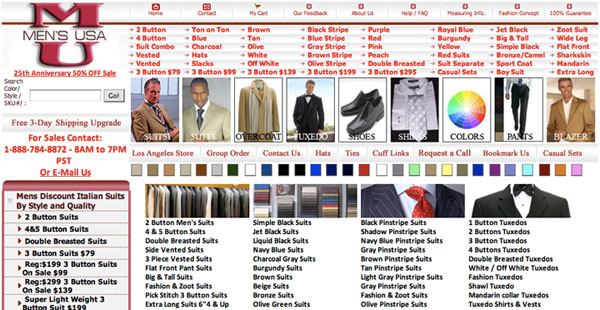 In addition to making me want to gouge my eyes out, I am highly suspicious of the security considerations that websites that look like this would take. But rather than just passing by, I decided to give them a little hint for why their clicks may not be translating into sales. I really did not have anything positive to say, I mean. . . look at that website. Then they sent me a quick response and went from having just a terrible website to having horrible customer service.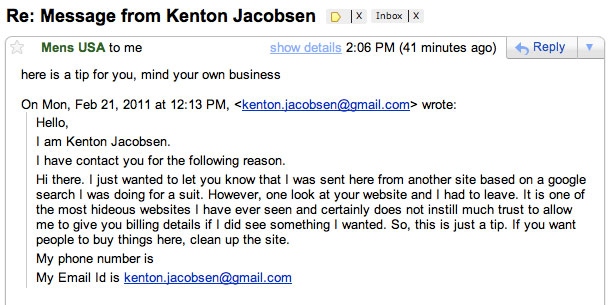 In case I was ever considering returning to purchase something if there is ever a new website I now have my answer. In honor of this feat, I made them a little graphic that they can place next to their nameless reviews and testimonials that are on their own website: